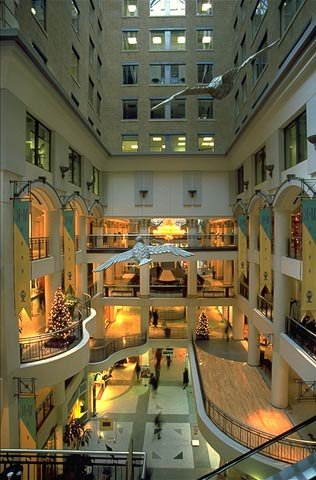 I'm not sure if it's the dirty slush, the wall of wind that hits your watery eyes, or the unbearable humidity in the summers, but I'm very grateful for the underground. Starting with Montreal, cities in the great north have an entirely different world humming below. A winding network of pedestrian friendly routes littered with shops, eateries and links to transit stations offer us Canucks an escape from the dreary winters and heat waves of the summer. Constantly expanding, Montreal (
link
) is one of the few "European experiences" a North American can get without leaving the continent. Toronto also has a large network, in case you're visiting the city and wondering where all the suits are... think fifteen feet under. Vancouver has a small network, but not really worth mentioning... they don't really need one (for now).
There's always something glamourous when you think of secret passageways or entrances, that can lead to the unknown. Europe has quite a few famous ones,
the Catacombs under Paris
, a web of more than 300 feet beneath the city level, and
Cappadocia Turkey
,
a subterranean city (such as Kaymakli or Derinkuyu) carved into rock that once housed thousands of natives. A multilevel civilization of granaries, stables, wells, chimneys, water tanks, wine cellars, cook fires, churches, and storage pits are all connected by a tangled web of passages.
Rumours of a possible "
City of the Gods
" is still shrouded in conspiracy stories. A complex network of natural caverns, ancient chambers, subterranean rivers and hydraulic waterways are said to lie beneath the Giza Plateau.
History Channel made an in depth documentary called "Cities of the Underground", link to part 1
here
.